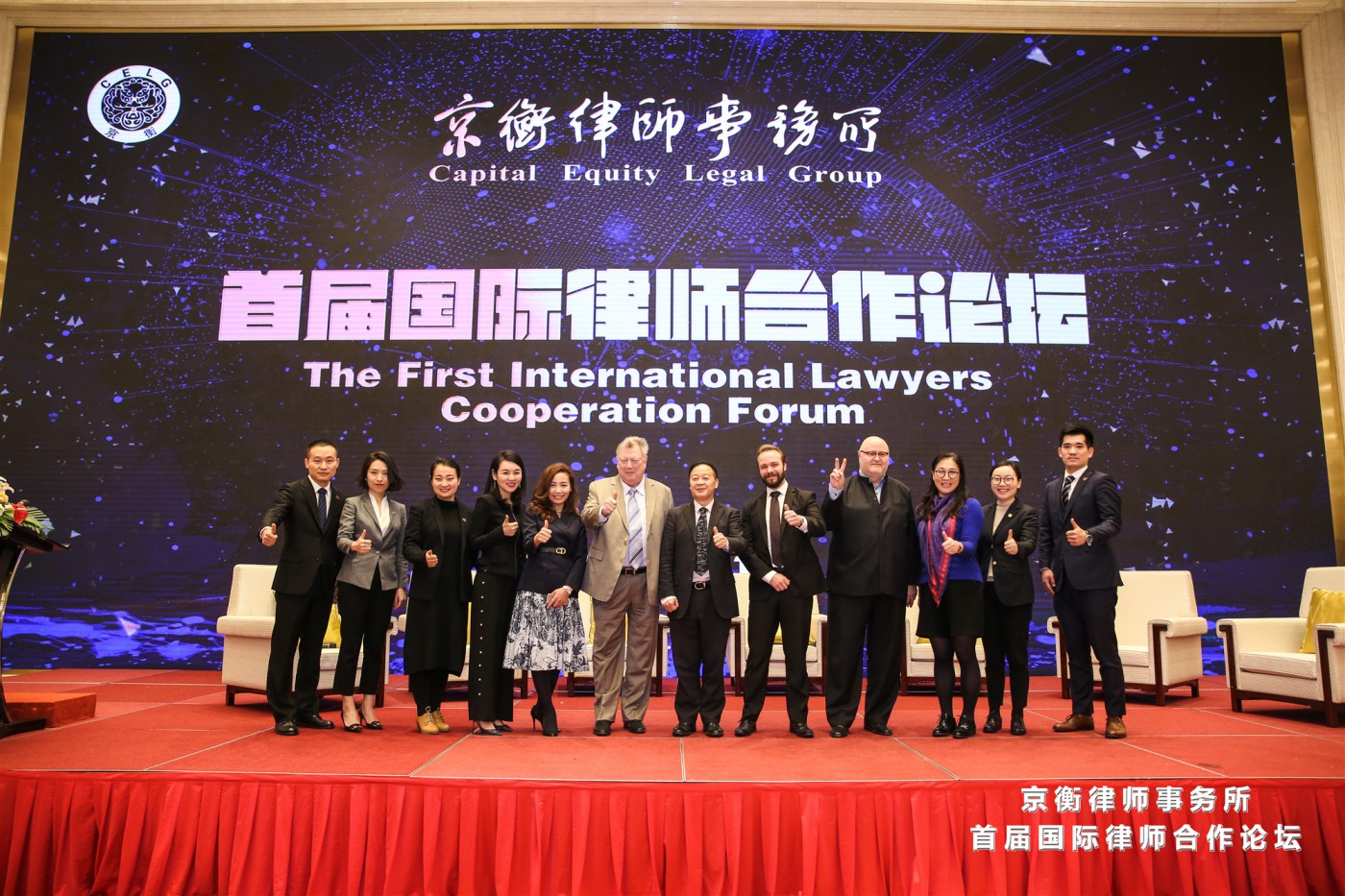 At the very beginning of 2020, the internationalization strategy of Capital Equity Legal Group (CELG) shows new heights and new ideas. On January 18th, CELG held their first international lawyers' cooperation forum in Grand New Century Hotel Zhejiang Radio & TV. The forum was welcomed by several professional international lawyers from Switzerland, Spain, Germany, Bulgaria, Malaysia, India, Mongolia separately.
The forum was presided over by Anqi Wang(Lawyer from CELG international department, the US attorney as well). The forum started with Mr. Youxi Chen 's (chairman of CELG) opening speech. In the report, Mr. Chen not only reviewed but also detailed CELG's development strategy. It is proposed that we have already entered 20 era, this year will be the beginning of the substantial development of CELG international business, whether from the national legal strategy, China economic strategic or the development plan of CELG. It is very necessary to foster international lawyers, strengthen international cooperation and enhance lawyers improvement space.
After Chairman's speech, based on the hot topics of international business, lawyers from different countries were divided into three professional, special, high-level panels to share ideas.
Hosted by lawyer Dr. Cheng Zhang.
Topic: Chinese Business Development Strategy of Foreign Law Firm and Introduction of Advantaged Industries
Guest speakers: Mr. Marco Bolognini(senior partner) , Mr.Oriol Prosper(senior partner) ,Dr. Miguel Elosue (director of China desk) from MAIO law firm, Ms.Seen Yin Lee(director of China desk)from Malaysia's JLPW, and Mr. Qi Shao(director of CELG Zhengjiang (FTZ) office).
Based on the theme, the guests heated discussion and expressed their views on the characteristics of law firms, how to set up and manage law firm aboard offices, the potential market opportunities in South Europe and Latin America counties, the environment of business development in Malaysia, the advantaged industries such as mining, maritime transport in Spain and the opportunities for shipping and maritime business development in China.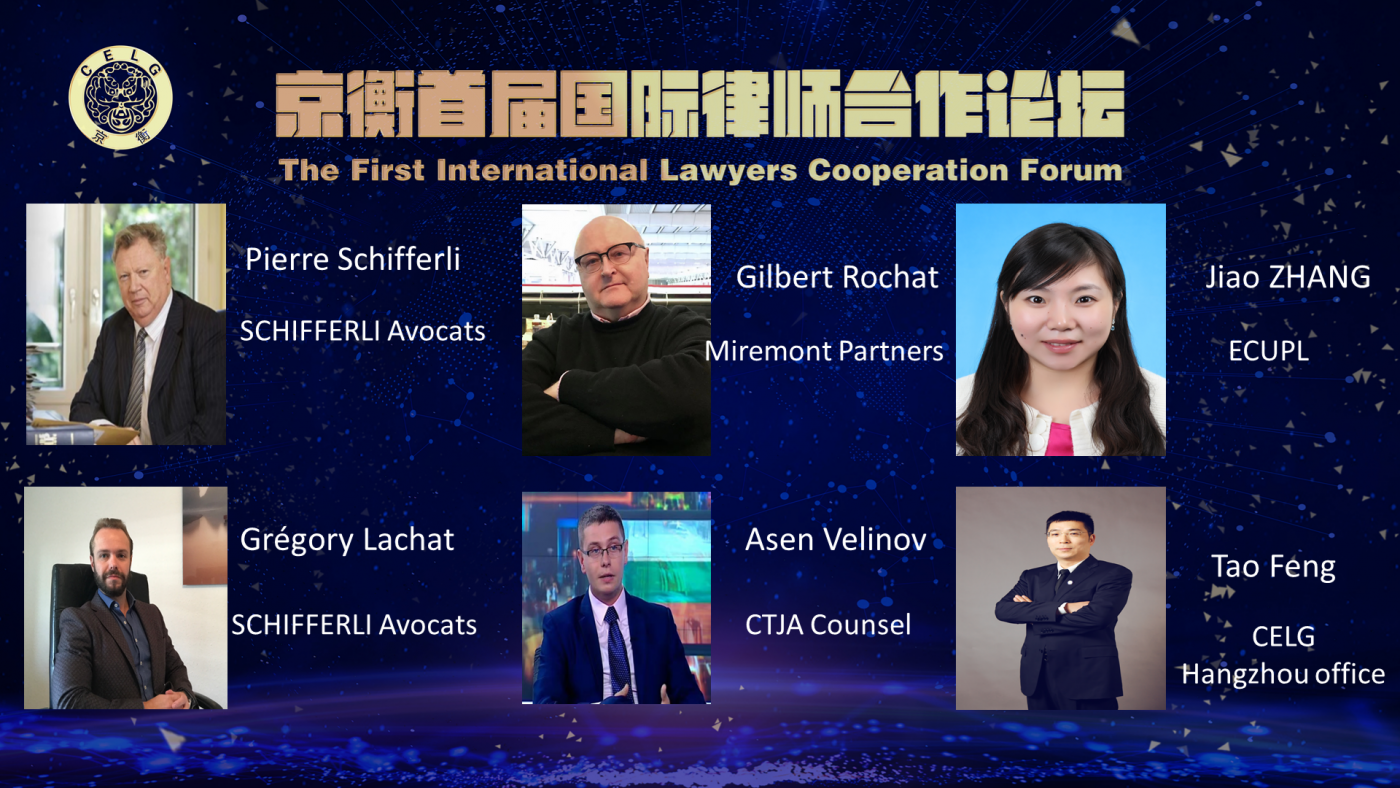 Hosted by lawyer Jing Lei (associate director of CELG international department).
Topic: Investment Challenges and Risks Prevention on Abroad.
Guest speakers: Mr. Pierre Schiffer(Director of Schifferli Avocats); Mr. Gregory Lachat (senior partner) of Schifferli Avocats; Mr. Gilbert Rochat(Founder of Miremont); Asen Velinov (CTJA Counsel and US attorney); Ms. Jiao Zhang (Secretary General for Institute BRI and Legal Diplomacy Studies of East China University of Political Science and Law) and Mr. Tao Feng (senior partner of CELG).
The guests discussed about international investment opportunities and risk prevention. Mainly focus on: the interaction between China Foreign Investment Law and Switzerland- China Free Trade Agreement, definitions, thoughts, ideas, legal risks of the Belt& Road Era, legal requirements and business in North America.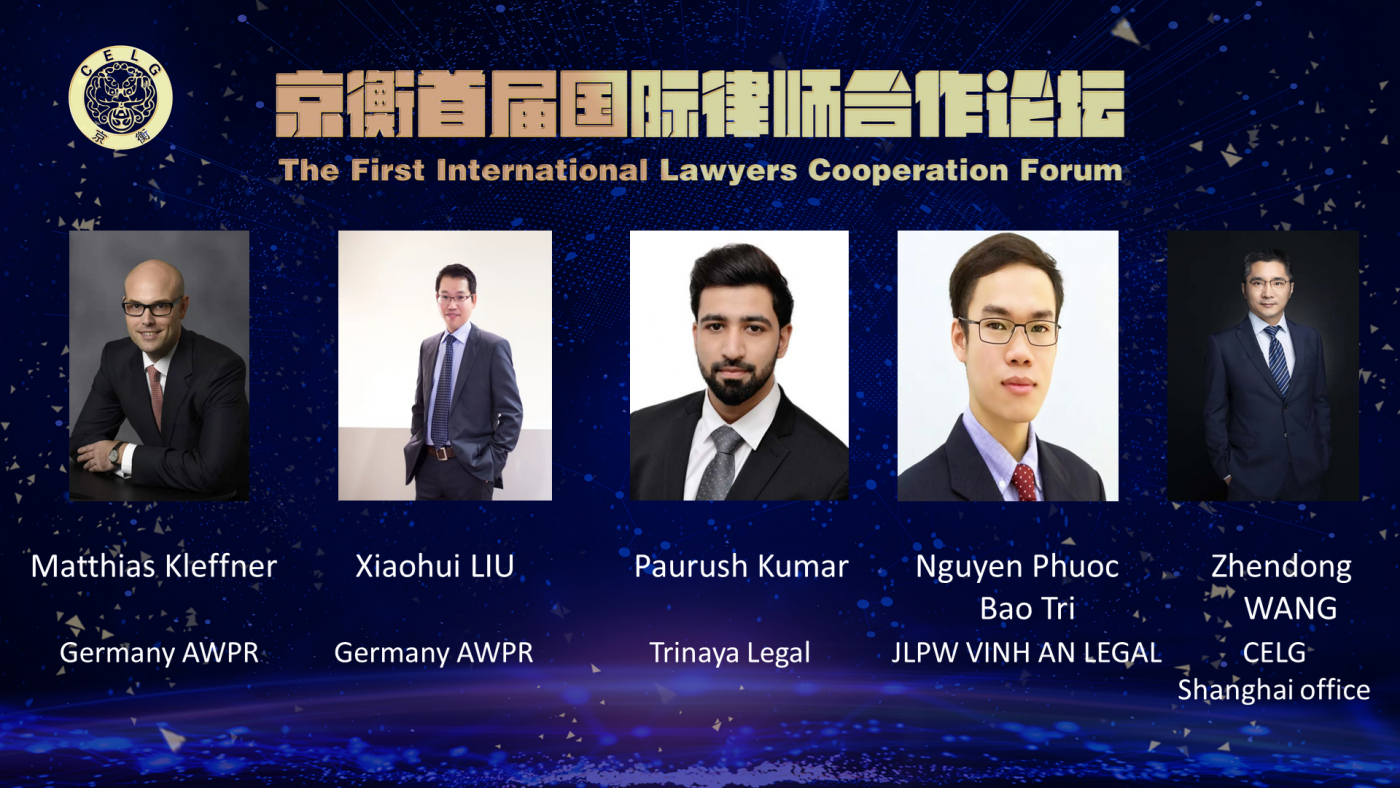 Hosted by Mr. Jing Lei and Dr.Zhang.
Topic: Compliance and Tax Issues of Enterprises in Overseas Landing Development
Guest speakers: Mr. Matthias Kleffner(senior partner of Germnay AWPR law firm), Dr.Xiaohui Liu(China desk of AWPR),Mr. Paurush Kumar(director of Asia-Pacific department of Trinaya Legal) , Mr. Nguyen Phuoc Bao Tri(management partner of JLPW VINH AN legal) and Mr. Zhendong Wang( lawyer of CELG shanghai).
The guests analyzed multi topics which included: market environment, work permit, tax, and audit issues for companies which want to set up or develop in Germany. The development and compliance issues of China-India Internet Finance Corporation, the business opportunities for Vietnamese M&A and the anti-corruption issues in overseas investment.
The forum concluded with Mr. Youxi Chen's sincerely thanks. The forum's meticulous organization and wonderful contents were highly praised by all international guests, This forum fully demonstrated the elite image of CELG lawyers to the international lawyers, practiced the CELG's slogan: to be the dedicated witness of China's rule of law progress, to be the experienced international legal counsel team, to be the trusted advisor to Chinese entrepreneurs globally, and laid a solid foundation for further international business cooperation.